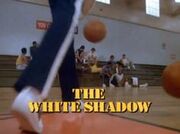 The White Shadow was a CBS network drama series, created by Bruce Paltrow, starring Ken Howard.
The show first premiered on November 27, 1978 and it broke new ground as the first television ensemble drama to feature a mostly African American cast with African American actors playing the high school principal & vice-principal, the majority of the teenage basketball players and other supporting roles.
It also presented a more realistic view of high school than previous TV shows and dealt with controversial subject matter such as sexually transmitted disease & gay sexual orientation among high school students.
"The White Shadow" drew praise from critics even though it wasn't a big ratings hit and helped pave the way for later realistic drama TV show such as "Hill Streeet Blues" and "My So-Called Life."
It became the first series developed by Bruce Paltrow, who would go on to create & produce the NBC network medical drama series "St. Elsewhere."
"The White Shadow" ended on March 16, 1981 after 3 seasons and 51 episodes.
The show was about Ken Reeves, a white professional basketball player who retires from the Chicago Bulls of the NBA after suffering from a severe knee injury.
Upon his retirement, Reeves takes a job as the head basketball coach at the fictional Carver High School, a mostly black and Hispanic urban high school in South Central Los Angeles, Califonria.
Carver's principal is Coach Reeves' former Boston College classmate Jim Willis (Jason Bernard in the pilot and Ed Bernard for seasons 1 and 2).
Sybil Buchanan (Joan Pringle) is the vice principal, who was against Reeves' hiring and frequently clashes with Reeves in the areas of discipline and education.
In the third season, Willis is promoted to a position with the Oakland Board of Education and Buchanan becomes principal of Carver High.
Ken Howard as Coach Ken Reeves
Ed Bernard as Principal Jim Willis [seasons 1-2]
Joan Pringle as Sybil Buchanan
Kevin Hooks as Morris Thorpe
Thomas Carter as James Hayward [seasons 1-2]
Timothy Van Patten as Mario "Salami" Pettrino
Erik Kilpatrick as Curtis Jackson [seasons 1-2]
Nathan Cook as Milton Reese [seasons 1-2]
Ken Michelman as Abner Goldstein [seasons 1-2]
Ira Angustain as Ricky Gomez [seasons 1-2]
Art Holliday as Eddie Franklin [season 3]
Wolfe Perry as Teddy Rutherford [season 3]
Stoney Jackson as Jesse B. Mitchell [season 3]
Larry "Flash" Jenkins as Wardell Stone [season 3]
John Laughlin as Paddy Falahey [season 3]
Byron Stewart as Warren Coolidge
Robin Pearson Rose as Katie Reeves Donahue [season 1]
Jerry Fogel as Bill Donahue [season 1]
John Mengatti as Nick Vitaglia [seasons 2-3]
Russell Phillip Robinson as Phil Jefferson [seasons 2-3]
Ad blocker interference detected!
Wikia is a free-to-use site that makes money from advertising. We have a modified experience for viewers using ad blockers

Wikia is not accessible if you've made further modifications. Remove the custom ad blocker rule(s) and the page will load as expected.