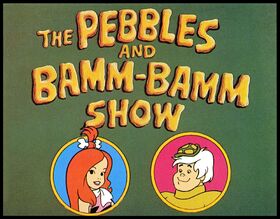 The Pebbles and Bamm-Bamm Show was a CBS network Saturday morning animated series & spin-off of "The Flintstones".
The show first premiered on September 11, 1971 and it ran for 16 half-hour episodes until September 2, 1972. It later ran for four 8-minute episodes as part of "The Flintstone Comedy Hour" from September 9, 1972 to September 1, 1973.
Ad blocker interference detected!
Wikia is a free-to-use site that makes money from advertising. We have a modified experience for viewers using ad blockers

Wikia is not accessible if you've made further modifications. Remove the custom ad blocker rule(s) and the page will load as expected.