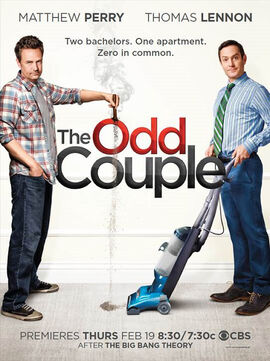 The Odd Couple is a CBS network sitcom and remake of the ABC network 1970s' tv series of the same name, starring Matthew Perry & Thomas Lennon in the lead role.
The show premiered on February 19, 2015 and concluded on January 30, 2017, lasting three seasons and 38 episodes.
On May 15, 2017, CBS cancelled the series after three seasons.
Felix Unger & Oscar Madison meet at college in the late 1980s and fate puts them together as roommates: while Felix is extremely neurotic and fussy in contrast to the slovenly and easy-going Oscar, they both become friends quickly.
They eventually marry two women very different from themselves (Felix gets hitched to the calm but feisty Ashley, and Oscar settles down with the insecure Gaby).
Years later, Felix, now a neat-freak news writer and photographer is kicked out by Ashley after 28 of marriage (having spent eight of them in marriage counseling with Felix going alone for the last 2 years) and moves in with Oscar, who is now a sports talk show host, whose ex-wife Gaby has left him because he was a thoughtless slob.
Felix and Oscar attempt to date Casey and Emily, two sisters who are roommates in the same building, and who both have recently exited their own unhealthy relationships.
Felix is pretty insecure as he still has feelings for Ashley, which contrasts with Oscar who claims to be better off away from his ex. However, Oscar later confesses to Felix that he is not over Gaby.
Oscar holds poker games regularly, with two of the players being Teddy, his agent and Roy, one of his best friends.
Main Cast
Edit
Matthew Perry as Oscar Madison
Thomas Lennon as Felix Unger
Yvette Nicole Brown as Danielle "Dani" Duncan
Lindsay Sloane as Emily
Wendell Pierce as Teddy
Recurring Cast
Edit
Leslie Bibb as Casey (Season 1)
Dave Foley as Roy (Seasons 1-2)
Lauren Graham as Gaby (Season 1)
Geoff Stults as Marcus "Murph" Murphy
Christine Woods as Ashley (Seasons 1-2)
Teri Hatcher as Charlotte (Seasons 2-3)
Sheryl Underwood as Diane (Seasons 2-3)
Production
Edit
Reception
Edit
External links
Edit
Ad blocker interference detected!
Wikia is a free-to-use site that makes money from advertising. We have a modified experience for viewers using ad blockers

Wikia is not accessible if you've made further modifications. Remove the custom ad blocker rule(s) and the page will load as expected.