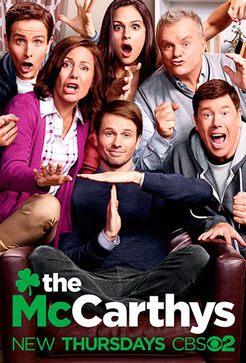 The McCarthys was a CBS sitcom created by Brian Gallivan that starred Tyler Ritter, Joey McIntyre, Jimmy Dunn, Kelen Coleman, Jack McGee and Laurie Metcalf.
The show first premiered on October 30, 2014, but after 11 episodes, it was pulled from the schedule after 11 episodes had aired.
On May 8, 2015, CBS announced the show was cancelled after one season, but the remaining episodes were burned off from July 4 to July 11, 2015.
The series revolved around the McCarthys, a close-knit working class Boston clan whose sports legacy runs deep in the family, but when outspoken father Arthur, a dedicated basketball coach for the fictional Cardinal Hennigan High School decides to take his athletically challenged and openly gay son, Ronny under his wing as his new assistant, the other siblings (who are more sports passionate) start crying foul over their dad's choice.
Main Cast
Tyler Ritter as Ronny McCarthy
Laurie Metcalf as Marjorie McCarthy
Jack McGee as Arthur McCarthy
Jimmy Dunn as Sean McCarthy
Joey McIntyre as Gerard McCarthy
Kelen Coleman as Jackie McCarthy
Recurring Cast
Jessica St. Clair as Katrina
Notable guest stars
Alyson Hannigan as Pam
John Ratzenberger as Charlie Ellis
Jane Kaczmarek as Eileen
Brent Morin as Tommy
Rick Fox as himself
Jean Smart as Lydia
David Alan Grier as Dr. Hugh Morris
Ad blocker interference detected!
Wikia is a free-to-use site that makes money from advertising. We have a modified experience for viewers using ad blockers

Wikia is not accessible if you've made further modifications. Remove the custom ad blocker rule(s) and the page will load as expected.