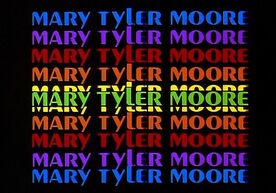 The Mary Tyler Moore was a CBS network sitcom created by James L. Brooks & Allan Burns, starring actress Mary Tyler Moore in the title role.
The show first premiered on September 19, 1970 and aired on Saturday nights throughout the series' run. It is known as one of the most acclaimed television programs in US television history.
Other cast members of the show consisted of Edward Asner, Valerie Harper, Gavin MacLeod, Ted Knight, Georgia Engel, Betty White and Cloris Leachman.
"The Mary Tyler Moore Show" has spun-off three TV series: "Rhoda", "Phyllis" and "Lou Grant".
It has received high praise from critics, including Emmy Awards for "Outstanding Comedy Series" three years in a row (from 1975 to 1977).
On March 19, 1977, the show ended after 7 seasons and 168 episodes.
Ad blocker interference detected!
Wikia is a free-to-use site that makes money from advertising. We have a modified experience for viewers using ad blockers

Wikia is not accessible if you've made further modifications. Remove the custom ad blocker rule(s) and the page will load as expected.