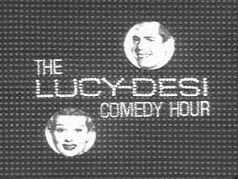 The Lucy–Desi Comedy Hour was a collection of thirteen black-and-white one-hour specials airing occasionally from November 6, 1957 to April 1, 1960 on CBS starring Lucille Ball & Desi Arnaz. It is a spin-off of "I Love Lucy."
The remaining eight were originally shown as part of Westinghouse Desilu Playhouse. Its original network title was "The Ford Lucille Ball-Desi Arnaz Show" during the first season and "The Westinghouse Desilu Playhouse Presents The Lucille Ball-Desi Arnaz Show" for the following seasons.
CBS reran these thirteen specials under the "Lucy-Desi" title as five prime time summer replacements from 1962 to 1965, with a final run in 1967.
The 1966–67 TV season was the first in which all first-run prime time network shows were in color. These "Lucy-Desi " repeats were the only black and white series aired that year, after which it, and "I Love Lucy", went into syndication.
Lucille Ball as Lucy Ricardo
Desi Arnaz as Ricky Ricardo
Vivian Vance as Ethel Mertz
William Frawley as Fred Mertz
Keith Thibodeaux (credited as Richard Keith) as Ricky "Little Ricky" Ricardo, Jr.
Ad blocker interference detected!
Wikia is a free-to-use site that makes money from advertising. We have a modified experience for viewers using ad blockers

Wikia is not accessible if you've made further modifications. Remove the custom ad blocker rule(s) and the page will load as expected.