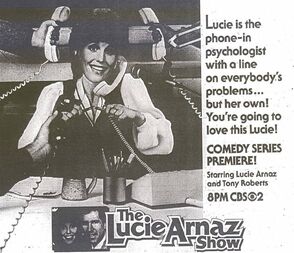 The Lucie Arnaz Show was a CBS network sitcom starring Lucie Arnaz (the daughter of Lucille Ball and Desi Arnaz).
The show first premiered on April 2, 1985, but was pulled off the air after 4 episodes aired. The remaining two episodes aired on June 4 and June 11, 1985.
The show was about psychologist Dr. Jane Lucas who answers questions from the public on her radio show called "The Jane Lucas Show") and in a magazine.
Lucie Arnaz as Dr. Jane Lucas
Tony Roberts as Jim Gordon
Karen Joblons-Alexander as Loretta
Lee Bryant as Jill
Todd Waring as Larry Love
Ad blocker interference detected!
Wikia is a free-to-use site that makes money from advertising. We have a modified experience for viewers using ad blockers

Wikia is not accessible if you've made further modifications. Remove the custom ad blocker rule(s) and the page will load as expected.