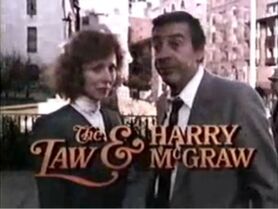 The Law & Harry McGraw was a CBS network drama TV series & spin-off of "Murder, She Wrote" that was created by Peter S. Fischer, starring Jerry Orbach and Barbara Babcock.
The show also starred Earl Boen, Juliana Donald, Marty Davis, Shea Farrell and Peter Haskell. It premiered on September 27, 1987 and lasted for 16 episodes before it was canceled by the network in February of 1988.
In the '90s, Jerry Orbach would go on to star on the NBC network drama "Law & Order."
"The Law and Harry McGraw" was about an abrasive private investigator who develops a regular business relationship with the lawyer whose office is across the hall.
Jerry Orbach as Harry McGraw
Barbara Babcock as Ellie Maginnis
Shea Farrell as Steve Lacey
Juli Donald as E.J. Brunson
Peter Haskell as Deputy D.A. Tyler Chase
Earl Boen as Howard
Marty Davis as Cookie the Bartender
Ad blocker interference detected!
Wikia is a free-to-use site that makes money from advertising. We have a modified experience for viewers using ad blockers

Wikia is not accessible if you've made further modifications. Remove the custom ad blocker rule(s) and the page will load as expected.