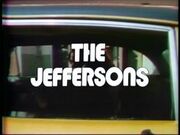 The Jeffersons is a CBS network sitcom created by Norman Lears. The show starred Sherman Hemsley, Isabel Sanford, Marla Gibbs, Roxie Roker, Mike Evans, Paul Benedict and Franklin Cover.
The series first aired on January 18, 1975 and ended on July 2, 1985, lasting eleven seasons and 253 episodes.
It is the second spin-off series of the show "All in the Family."
The show had a short-lived spin-off series called "Checking In", starring Marla Gibbs.
On July 2, 1985, "The Jeffersons" was suddenly cancelled which caused some controversy & the cast wasn't informed of the show's cancellation until after the last episode of the series was aired.
The show was about George and Louise Jefferson, an affluent African-American couple residing in New York City.
Main Cast
Sherman Hemsley as George Jefferson
Isabel Sanford as Louise "Weezie" Jefferson
Marla Gibbs as Florence Johnston
Roxie Roker as Helen Willis
Franklin Cover as Tom Willis
Berlinda Tolbert as Jenny Willis Jefferson
Mike Evans as Lionel Jefferson #1 [season 1, seasons 6-7]
Damon Evans as Lionel Jefferson #2 [seasons 2-4]
Paul Benedict as Harry Bentley [seasons 1-7; seasons 10-11]
Recurring Cast
Ned Wertimer as Ralph Hart
Zara Cully as Mother Olivia Jefferson [seasons 1-4]
Ernest Harden Jr. as Marcus Garvey [seasons 4-5]
Jay Hammer as Allan Willis [season 5]
Ebonie Smith as Jessica Jefferson [season 11]
Danny Wells as Charlie, the Bartender [season 11]
Ad blocker interference detected!
Wikia is a free-to-use site that makes money from advertising. We have a modified experience for viewers using ad blockers

Wikia is not accessible if you've made further modifications. Remove the custom ad blocker rule(s) and the page will load as expected.