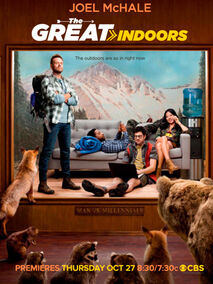 The Great Indoors is an CBS network sitcom, created by Mike Gibbons, starring Joel McHale.
It first premiered on October 27, 2016. Almost a month later on November 14, 2016, it was picked up for a full season of 19 episodes. On January 6, 2017, an additional 3 episodes were added, making it a 22 episode season.
Jack Gordon has made a name for himself as an adventure reporter for the magazine Outdoor Limits. His days of exploring the world end when the magazine's founder, Roland, announces its move to web-only publishing and assigns Jack to supervise the millennials who make up its online team of so-called journalists.
Joel McHale as Jack Gordon: a globe-trotting adventure reporter now in charge of his magazine's publishing department
Stephen Fry as Roland: an outdoorsman in his own right and founder of the magazine
Christopher Mintz-Plasse as Clark: a tech nerd who knows everything about surviving on Mars and a zombie apocalypse yet has not been out of the city
Christine Ko as Emma: the social media expert who views Jack as the human version of dial-up
Shaun Brown as Mason: a hipster who has not spent any actual time outside
Susannah Fielding as Brooke: Roland's daughter and Jack's ex-girlfriend and current boss
Chris Williams as Eddie: Jack's best friend, who runs the local bar and helps him understand his co-workers
Ad blocker interference detected!
Wikia is a free-to-use site that makes money from advertising. We have a modified experience for viewers using ad blockers

Wikia is not accessible if you've made further modifications. Remove the custom ad blocker rule(s) and the page will load as expected.