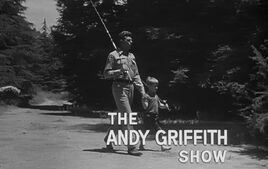 The Andy Griffith Show was a CBS network sitcom created by Sheldon Leonard, starring Andy Griffith as the title role. It also starred Ronny Howard, Don Knotts and Frances Bavier.
The show first premiered on October 3, 1960 which aired on Monday evenings throughout its entire run. During the series' run, it consistently placed in the top 10 in the Nielsen ratings.
During its run, "The Andy Griffith Show" has also won Emmy awards. Don Knotts and Frances Bevier has won Emmy awards for their supporting roles on the show. It has also launched the spin-offs: "Gomer Pyle, U.S.M.C." and "Mayberry R.F.D.".
On April 1, 1968, "The Andy Griffith Show" ended after 8 seasons and 249 episodes.
The show was about widower Sheriff Andy and his son Opie living with Andy's Aunt Bee in Mayberry, North Carolina.
With virtually no crimes to solve, most of Andy's time is spent philosophizing and calming down his cousin Deputy Barney.
Andy Griffith as Andy Taylor
Don Knotts as Barney Fife [seasons 1-5]
Ron Howard as Opie Taylor
Frances Bavier as Aunt Bee Taylor
Howard McNear as Floyd Lawson
Hal Smith as Otis Campbell [seasons 1-7]
Betty Lynn as Thelma Lou [seasons 1-5]
Aneta Corsaut as Helen Crump
Jack Dodson as Howard Sprague
Hope Summers as Clara Edwards Johnson
Howard Morris as Ernest T. Bass
Jim Nabors as Gomer Pyle [ 4 ]
George Lindsey as Goober Pyle [season 6]
Jack Burns as Warren Ferguson [season 6]
Paul Hartman as Emmett Clark [season 8]
Parley Baer as Mayor Roy Stoner
Dick Elliott as Mayor Pike
Clint Howard as Leon
Elinor Donahue as Ellie Walker [season 1]
Maggie Peterson as Charlene Darling
Denver Pyle as Briscoe Darling
Ken Berry as Sam Jones [season 8]
Ad blocker interference detected!
Wikia is a free-to-use site that makes money from advertising. We have a modified experience for viewers using ad blockers

Wikia is not accessible if you've made further modifications. Remove the custom ad blocker rule(s) and the page will load as expected.