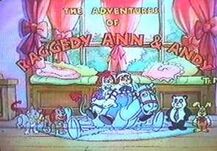 The Adventures of Raggedy Ann and Andy was a CBS network animated TV series based on the Raggedy Ann and Andy dolls created by Johnny Gruelle.
The show premiered on September 17, 1988 and was produced directly by CBS in honor of the characters' 70th anniversary.
The series lasted from September 17, 1988 and aired for 13 episodes. Although the show was retired in 1990, CBS aired reruns in 1991.
"The Adventures of Raggedy Ann and Andy" was about a little girl named Marcella whose Raggedy Ann and Andy dolls would come to life when no humans were present in her bedroom.
Then, the two of them would be whisked off to a parallel world to save its inhabitants from the villain, an evil but inept sorcerer known as Cracklin.
Also aiding Raggedy Ann and Andy were two of Marcella's other stuffed animals, a panda with a faux-British accent known as Grouchy Bear and a stuffed rabbit known as Sunny Bunny.
Sometimes, they would be joined by more modern toys such as robots or toy soldiers. Often the plot involved the toys helping children in such places as Ancient Egypt or a Native American tribe.
Voice Cast
Edit
Christina Lange as Raggedy Ann
Josh Rodine as Raggedy Andy
Charles Adler as Grouchy Bear
Gaille Heidemann as Mother
Kenneth Mars as The Camel with the Wrinkled Knees
Dana Hill as Raggedy Dog
Katie Leigh as Sunny Bunny
Kath Soucie as Raggedy Cat
Tracy Rowe as Marcella
Additional Voice Cast
Brian Cummings
Sherry Lynn
Dave Mallow
Danny Mann
Patty Parris
Frank Welker
SaveSave
Ad blocker interference detected!
Wikia is a free-to-use site that makes money from advertising. We have a modified experience for viewers using ad blockers

Wikia is not accessible if you've made further modifications. Remove the custom ad blocker rule(s) and the page will load as expected.