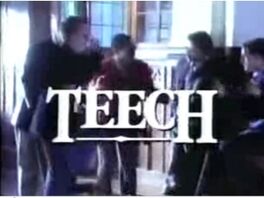 Teech was a CBS network sitcom created by David Frankel and Norman Steinberg, starring Phill Lewis in the title role.
Other cast members consisted of Steve Gilborn, Maggie Han, Curnal Achilles Aulisio, Josh Hoffman, Kevin Lawrence Johnson, Jack Noseworthy and Jason Kristofer.
The show premiered on September 18, 1991 and aired on Wednesday evenings opposite NBC's "Unsolved Mysteries".
After only four episodes aired, "Teech" was canceled on October 16, 1991, leaving 9 episodes unaired.
Set in Philadelphia, Pennsylvania, "Teech" was about Teech Gibson, a black music teacher who teaches at an exclusive school called Winthrop Academy.
Phill Lewis as Teech Gibson
Curnal Achilles Aulisio as George Dubcek, Jr.
Joshua Hoffman as Kenny Freedman
Ken Lawrence Johnson as Boyd Askew
Jason Kristofer as Alby Nichols
Steven Gilborn as Alfred W. Litton
Maggie Han as Cassie Lee
Jack Noseworthy as Adrian Peterman
Ad blocker interference detected!
Wikia is a free-to-use site that makes money from advertising. We have a modified experience for viewers using ad blockers

Wikia is not accessible if you've made further modifications. Remove the custom ad blocker rule(s) and the page will load as expected.