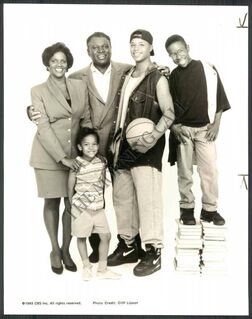 Tall Hopes was a CBS network sitcom that was created by Michael Elias and Rich Eustis that starred George Wallace, Anna Maria Horsford, Terrence Howard, Kenny Blank and Karla Green.
The series premiered on August 25, 1993 and aired on Wednesday evenings.
It was originally scheduled for a 4-week summer run, but after only 3 episodes, the show was canceled on September 8, 1993.
"Tall Hopes" centered on a smart 14-year-old black kid named Ernest Harris (Kenny Blank) struggling to get as much family attention as his 16-year-old brother, Chester (Terrence Howard), a high school basketball star.
George Wallace as George Harris
Anna Maria Horsford as Lainie Harris
Terrance Howard as Chester Harris
Kenny Blank as Ernest Harris
Karla Green as DeeDee Harris
Ad blocker interference detected!
Wikia is a free-to-use site that makes money from advertising. We have a modified experience for viewers using ad blockers

Wikia is not accessible if you've made further modifications. Remove the custom ad blocker rule(s) and the page will load as expected.