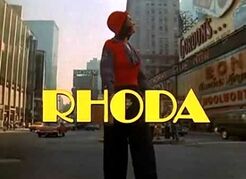 Rhoda was a CBS network sitcom and spin-off of "The Mary Tyler Moore Show" that was created by James L. Brooks and Allan Burns, starring Valerie Harper in the title role.
The series first premiered on September 9, 1974. The other cast members consisted of Julie Kavner, Nancy Walker and David Groh. It was noted for breaking two television records and was the winner of two Golden Globes and two Emmy Awards.
On December 9, 1978, the show ended after 5 seasons and 110 episodes.
Ad blocker interference detected!
Wikia is a free-to-use site that makes money from advertising. We have a modified experience for viewers using ad blockers

Wikia is not accessible if you've made further modifications. Remove the custom ad blocker rule(s) and the page will load as expected.