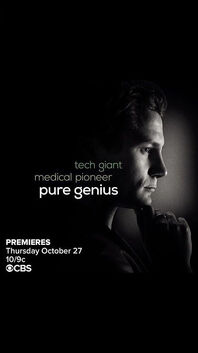 Pure Genius is a American medical drama series created by Jason Katims, starring Dermott Mulroney that premiered on October 27, 2016.
The series was aired on October 27, 2016 and concluded on January 26, 2017 lasting only one season and 13 episodes.
On November 21, 2016, CBS announced that it would not order more episodes than the 13 episodes commissioned.
The production for the show's first season wrapped on December 15, 2016 and the remaining commissioned episodes were broadcast for the remainder of its run.
On May 15, 2017, CBS decided to cancelled the series after one season.
James Bell is a Silicon Valley billionaire who dreams of building a hospital with ultimate cutting-edge technology to treat rare and incurable diseases.
He partners with a maverick surgeon, Dr. Walter Wallace, who leads the effort in clearing out the bureaucracy of medicine & focus on forward thinking, advancing technology and saving lives at no cost to the patient.
Dermot Mulroney as Dr. Walter Wallace
Augustus Prew as James Bell
Reshma Shetty as Dr. Talaikha Channarayapatra
Brenda Song as Angie Cheng
Odette Annable as Zoe Brockett (aka Alex)
Aaron Jennings as Dr. Malik Water
Ward Horton as Dr. Scott Strauss
Episode number
Edit
Production
Edit
Possible cancellations
Edit
On November 21, both Variety and Deadline Hollywood reported that CBS had not ordered new episodes of Pure Genius beyond the initial 13 episode run. While not officially cancelled and no decision has yet been announced on season 2, and CBS has not cancelled the time spot prior to completing airing of the last nine episodes, Variety reports that typically "most new broadcast series launched in fall that do not see their initial episode order extended are not ultimately renewed for second seasons."
Reception
Edit
Critical reception
Edit
Pure Genius has received generally mixed reviews from television critics. Review aggregator website Rotten Tomatoes reported a 24% "rotten" rating based on 21 professional reviews, while it holds a 78% user (non-critic) rating. The website's consensus reads, "Pure Genius is weighed down by stereotypical doctor drama trappings, suffocating its chances of bringing anything compelling and entertaining to the genre." Metacritic reported a score of 43 out of 100 based on 18 reviews, indicating "mixed or average reviews". On IMDB Pure Genius holds a 7.3/10 rating based on 2301 user reviews.
External links
Edit