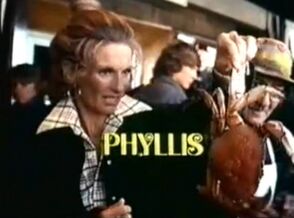 Phyllis was a CBS network sitcom & spin-off of "The Mary Tyler Moore Show" that was created by Ed Weinberger & Stan Daniels, starring Cloris Leachman in the title role.
The show first aired on September 8, 1975 and also starred Henry Jones, Judith Lowry and Jane Rose.
By January of 1977, CBS moved "Phyllis" & "Rhoda" (another "M.T.M.S." spinoff) to Sunday nights at 8:00 P.M. and 8:30 P.M., respectively.
During this time, actress Jane Rose (who portrayed the role Audrey Dexter) took ill. These events put Phyllis' home life in flux which necessitated more new story lines. Daughter Bess's role became more prominent and she found romance with Mark Valenti (who was portrayed by Craig Wasson), the nephew of Phyllis' boss and they later married.
By the end of the 1976–77 season, the ratings for "Phyllis" was still faltering" and by the spring of 1977, it was canceled by CBS with its final episode airing on March 13, 1977. The stigma of the deaths of several cast members during the show's run, as well as the ill health of actress Jane Rose are also said to have been factors in the show's cancellation.
Ad blocker interference detected!
Wikia is a free-to-use site that makes money from advertising. We have a modified experience for viewers using ad blockers

Wikia is not accessible if you've made further modifications. Remove the custom ad blocker rule(s) and the page will load as expected.