NCIS is a American police procedural drama created by Donald P. Bellisario and Don McGill, starring Mark Harmon in his lead role. It was produced by Bellisarius Prod. and CBS Television Studios, also distributed by CBS Television Distribution. It is a spin-off in the legal drama series JAG.
The show first aired on September 23, 2003 and as of 2017, it has aired for 14 seasons and 330 episodes.
The show has spawned two spin-off series are NCIS: Los Angeles and NCIS: New Orleans.
Synopsis
Edit
Set in Washington, D.C., "NCIS" is about a special unit of the Naval Criminal Investigative Service that catches wrongdoers with Navy or Marine Corps ties.
Mark Harmon as Leroy Jethro Gibbs
Michael Weatherly as Anthony "Tony" DiNozzo (season 1-13)
Pauley Perrette as Abby Sciuto
Sean Murray as Timothy McGee (season 2-current, previous recur)
David McCallum as Dr. Donald "Ducky" Mallard
Cote de Pablo as Ziva David (seasons 3-11)
Emily Wickersham as Ellie Bishop (seasons 11-current)
Rocky Carroll as Director Leon Vance (season 6-current)
Lauren Holly as Director Jenny Shepard (seasons 3-5)
Sasha Alexander as Caitlin "Kate" Todd (seasons 1-2)
Brian Dietzen as Jimmy Palmer (season 10-current, previous recur)
Wilmer Valderrama as Nicolas "Nick" Torres (season 14-current)
Jennifer Esposito as Alexandra Quinn (season 14)
Maria Bello as Jacqueline "Jackie" Sloane (season 15.4-current)
Episode numbers
Edit
Production
Edit
Prior to the launch of the first season, advertisements on CBS identified the show as "Naval CIS". By the time of the launch of the first episode, NCIS was airing under the name Navy NCIS, the name it held for the entire first season. Since the "N" in NCIS stands for "Naval", the name "Navy NCIS" was redundant. The decision to use this name was reportedly made by CBS, over the objections of Bellisario, to:
Attract new viewers (particularly those of JAG), who might not know the NCIS abbreviation
Distinguish between NCIS and the similarly themed and similarly spelled CBS series CSI and its spinoffs. (The original title, for instance, was often misquoted and parodied as "Navy CSI", something the show itself referenced in the first episode.)
From the season-two episode "Lt. Jane Doe" onwards, the series began showing two-second-long black-and-white clips. These clips are shown at the beginning of every segment depicting the last two seconds of that segment, a segment being the five or six portions of the show meant to be separated by commercials. In the season-three premiere, "Kill Ari (Part I)", a freeze-frame shot was also used with the very end of most episodes turned into a freeze frame, as well.
Reception
Edit
Broadcast ratings
Season
Episodes
Timeslot (EST)
Original airing
Live television ratings
Season premiere
Season finale
TV season
Viewers
(in millions)
Rank
(viewers)
Key demographics
(18–49)
1st
23
Tuesday 8:00 PM
September 23, 2003
May 25, 2004
2003–04
11.84
26th
Template:N/a
2nd
23
September 28, 2004
May 24, 2005
2004–05
13.57
22nd
Template:N/a
3rd
24
September 20, 2005
May 16, 2006
2005–06
15.27
16th
Template:N/a
4th
24
September 19, 2006
May 22, 2007
2006–07
14.54
20th
Template:N/a
5th
19
September 25, 2007
May 20, 2008
2007–08
14.41
14th
Template:N/a
6th
25
September 23, 2008
May 19, 2009
2008–09
17.77
5th
Template:N/a
7th
24
September 22, 2009
May 25, 2010
2009–10
19.33
4th
4.1
8th
24
September 21, 2010
May 17, 2011
2010–11
19.46
5th
4.1
9th
24
September 20, 2011
May 15, 2012
2011–12
19.49
3rd
4.01
10th
24
September 25, 2012
May 14, 2013
2012–13
21.34
1st
4.0
11th
24
September 24, 2013
May 13, 2014
2013–14
19.77
3rd
3.3
12th
24
September 23, 2014
May 12, 2015
2014–15
18.25
3rd
13th
24
September 22, 2015
May 17, 2016
2015–16
16.61
3rd
2.2
14th
24
September 20, 2016
May 16, 2017
2016–17
14.63
3rd
TBA
13th
24
September 26, 2017
2017–18
Awards & Achievements
Edit
Throughout its run, "NCIS" has received many awards and nominations since it premiered on September 23, 2003 including the ALMA Awards, ASCAP Awards, BMI Film & TV Awards, Emmy Awards and the People's Choice Awards.
External links
Edit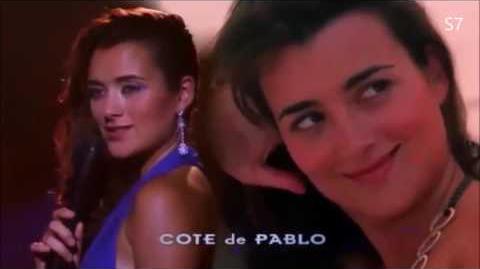 Ad blocker interference detected!
Wikia is a free-to-use site that makes money from advertising. We have a modified experience for viewers using ad blockers

Wikia is not accessible if you've made further modifications. Remove the custom ad blocker rule(s) and the page will load as expected.