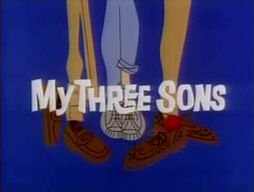 My Three Sons was a ABC\CBS network sitcom that starred Fred MacMurray, William Frawley, William Demarest, Tim Considine, Don Grady, Stanley Livingston, Barry Livingston, Meredith MaCrae, Tina Cole, Beverly Garland, Dawn Lyn & Ronne Troup.
The series originally featured William Frawley as the boys' live-in maternal grandfather, Bub O'Casey. William Demarest (who portrayed Bub's brother) replaced William Frawley in 1965 due to his health issues.
The show originally aired on the ABC network from September 29, 1960 to May 20, 1965 and was filmed in black & white.
After the series moved to the CBS network on September 16, 1965, it was filmed in color until the series' end on April 13, 1972 after 12 seasons and 380 episodes.
The show was about a man named Steve Douglas, a widowed aircraft engineer raising his three boys: Mike, Chip and Robbie.
In September of 1965, the eldest son Mike got married and his character was written out of the show and in order to keep the emphasis on "three sons", a new son named Ernie was adopted by the Douglas family.
In the show's final years, Steven remarried and adopted his new wife, Barbara's young daughter Dorothy (AKA "Dodie").
Fred MacMurray as Steve Douglas
Stanley Livingston as Chip Douglas
Don Grady as Robbie Douglas (Seasons 1-11)
Barry Livingston as Ernie Thompson Douglas (Seasons 4-12)
Tim Considine as Mike Douglas (Seasons 1-5)
William Demarest as Uncle Charley O'Casey (Seasons 6-12)
Tina Cole as Katie Miller Douglas (Seasons 8-12)
Beverly Garland as Barbara Harper Douglas (Seasons 10-12)
Dawn Lyn as Dodie Harper Douglas (Seasons 10-12)
Ronne Troup as Polly Williams Douglas (Seasons 11-12)
Meredith MacRae as Sally Ann Morrison Douglas (Seasons 4-5)
William Frawley as William Michael Francis "Bub" O'Casey (Seasons 1-5)
Ad blocker interference detected!
Wikia is a free-to-use site that makes money from advertising. We have a modified experience for viewers using ad blockers

Wikia is not accessible if you've made further modifications. Remove the custom ad blocker rule(s) and the page will load as expected.