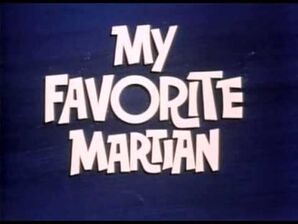 My Favorite Martian was a CBS network sitcom created by John L. Greene, starring Ray Walston (as the title character) and Bill Bixby.
The show premiered on September 29, 1963 and aired on Sunday evenings. From 1963 to 1965, it aired in black and white for 75 episodes and from 1965 to 1966, it aired in color for 32 episodes.
Other cast members consisted of Pamela Britton, J. Pat O'Malley, Alan Hewitt, Ann Marshall and Roy Engel.
During its first season, "My Favorite Martian" did extremely well in the Nielsen ratings, ranking at #10, but by the end of the second season, it had dipped to #24.
Even though the series was doing well enough to be renewed for a third season, the ratings dipped even further in the third season due to redundant stories and the series was canceled on May 1, 1966 after 3 seasons and 107 episodes.
Ad blocker interference detected!
Wikia is a free-to-use site that makes money from advertising. We have a modified experience for viewers using ad blockers

Wikia is not accessible if you've made further modifications. Remove the custom ad blocker rule(s) and the page will load as expected.