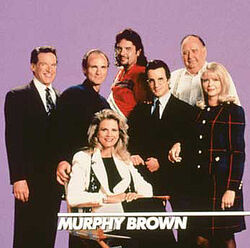 Murphy Brown is an American television sitcom that aired on CBS from November 14, 1988 to May 18, 1988 and it will restart on September 2018.
The series focused on Murphy Brown, a famous investigative journalist and news anchor for "FYI" a fictional CBS television newsmagazine.
Candice Bergen as Murphy Brown
Faith Ford as Corky Sherwood(-Forrest)
Charles Kimbrough as Jim Dial (Season 1-10)
Joe Regalbuto as Frank Fontana
Lily Tomlin as Kay Carter-Shepley (Seasons 9-10)
Pat Corley as Phil (Seasons 1-8, episode 246)
Grant Shaud as Miles Silverberg (Seasons 1-8, 11)
Robert Pastorelli as Eldin Bernecky (Seasons 1-6, episode 247)
Jake McDorman as Avery Brown
Nik Dodani as Pat Patel (Season 11)
Tyne Daly as Phyllis (Season 11)
Seasons overview
Edit
Production
Edit
It premiered on November 14, 1988 and during its first season, it peaked at #36 in the Nielsen ratings and had 14.9 million views. By the show's fourth season, it peaked at #3 in the Nielsen ratings.
During the show's fourth season (in 1991-1992), the character of Murphy Brown became pregnant out of wedlock which attracted the attention of then-Vice President Dan Quayle who criticized the Murphy Brown character for "mocking the importance of fathers by bearing a child alone".
By the beginning of the 1996–97 season, viewership for "Murphy Brown" began to decline. Grant Shaud had left the series and comedian Lily Tomlin was brought in to replace him in the role of executive producer Kay Carter-Shepley to help bolster the sitcom's ratings.
Tomlin remained with the series for its last two years, but the show's ratings continued to drop, especially after a move off of Monday nights in favor of a slot on Wednesday nights.
CBS renewed "Murphy Brown" for a tenth season which ended up being its last.
In the fall of 1997, the final season of "Murphy Brown" premiered and the entire season served as a story arc in which Murphy battled breast cancer.
However, the storyline was not without some controversy; an episode in which Murphy used medical marijuana to relieve side effects of chemotherapy was attacked by conservative groups, and a women's health group protested an episode in which Murphy (while shopping for prosthetic breasts) uttered the line "Should I go with Demi Moore or Elsie the Cow?"
However, the show's handling of the subject was credited with a 30 percent increase in the number of women getting mammograms that year and Candice Bergen was presented an award from the American Cancer Society in honor of her role in educating women on the importance of breast cancer prevention and screening.
On May 18, 1998, "Murphy Brown" ended after 10 seasons and 247 episodes. On January 2018, the series of "Murphy Brown" is making the revival and it will premiered by September of 2018.
Reception
Edit
External links
Edit