Mrs. G. Goes To College (later retitled "The Gertrude Berg Show") was a CBS network sitcom, starring Gertrude Berg which premiered on October 4, 1961.
Halfway through the series' first season, it was retitled "The Gertrude Berg Show," but the reviews for the show were unfavorable & the ratings were moderate leading CBS to cancel the series on April 5, 1962 after one season & 26 episodes.
The show was about Sarah Green, a 62-year-old woman who enters college after the death of her husband.
Gertrude Berg as Sarah Green
Cedric Hardwicke as Professor Crayton
Mary Wickes as Maxfield
Skip Ward as Joe Caldwell
Marion Ross as Susan Green
Leo Penn as Jerry Green
Aneta Corsaut as Irma Howell
Paul Smith as George Howell
Karyn Kupcinet as Carol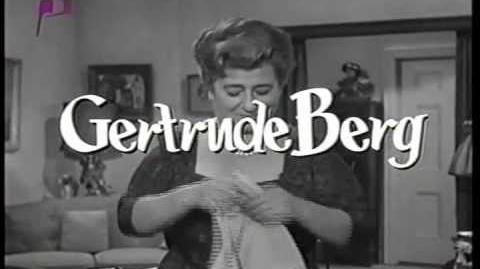 Ad blocker interference detected!
Wikia is a free-to-use site that makes money from advertising. We have a modified experience for viewers using ad blockers

Wikia is not accessible if you've made further modifications. Remove the custom ad blocker rule(s) and the page will load as expected.