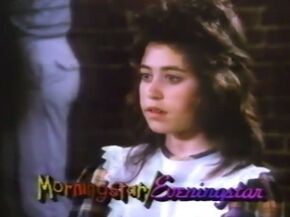 Morningstar\Eveningstar was a CBS network drama series created by Earl Hamner Jr. which aired from March 25 to May 6, 1986, lasting for one season & 7 episodes.
The series was about an orphanage called Morningside that moves into a senior citizen retirement community called Eveningside after their building is destroyed in a fire.
Sherry Husey as Debbie Flynn
Darrell Larson as Bob Lane
Kate Reid as Martha Cameron
Jeff Corey as Bill McGregor
Sylvia Sidney as Binnie Byrd Baylor
Elizabeth Wilson as Kathy Kelly
Scatman Crothers as Excell Dennis
Mason Adams as Gordon Blair
Ketty Lester as Nora Blake
Fred Savage as Alan Bishop
Missy Francis as Sarah Bishop
Chris Peters as Kevin Murphy
Tammy Lauren as Lisa Thurston
David Goldsmith as Martin Palmer
Leaf Phoenix as Doug Roberts
Ebonie Smith as Eugenie Waters
Ad blocker interference detected!
Wikia is a free-to-use site that makes money from advertising. We have a modified experience for viewers using ad blockers

Wikia is not accessible if you've made further modifications. Remove the custom ad blocker rule(s) and the page will load as expected.