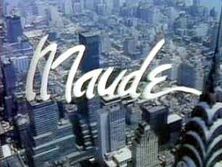 Maude was a CBS sitcom created by Norman Lear, starring Beatrice Arthur (as the title character), Bill Macy, Conrad Bain & Hermione Baddeley. The show was a spin-off of "All in the Family" on which Beatrice Arthur made two appearances on the show as Edith Bunker's cousin, Maude.
It premiered on September 12, 1972 and lasted until April 23, 1978, lasting for six seasons and 141 episodes.
Ad blocker interference detected!
Wikia is a free-to-use site that makes money from advertising. We have a modified experience for viewers using ad blockers

Wikia is not accessible if you've made further modifications. Remove the custom ad blocker rule(s) and the page will load as expected.