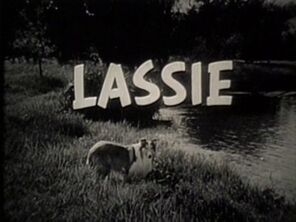 Lassie was a CBS network adventure TV series created by Robert Maxwell that first premiered on September 12, 1954 and became the 4th longest-running U.S. primetime TV series (behind "The Simpsons," "Gunsmoke" & "Law & Order").
The show's cast throughout the series consisted of Tommy Rettig, Jan Clayton, Jon Provost, George Cleveland, Jon Shepodd, June Lockhart, Hugh Reilly, Robert Bray, Jack De Mave, Jed Allan, Larry Wilcox and Pamelyn Ferdin.
"Lassie" aired for 17 seasons on the CBS network until September 12, 1971 when it was moved to syndication & remained there until March of 1973.
The first ten seasons of "Lassie" follow Lassie's adventures in a small farming community. Eleven-year-old Jeff Miller, his mother and his grandfather are Lassie's first human companions until 7-year-old Timmy Martin and his adoptive parents take over in the fourth season.
When Lassie's exploits on the farm ended in the eleventh season, she finds new adventures in the wilderness alongside United States Forest Service Rangers.
After traveling on her own for a year, Lassie finally settles at a children's home for her final two syndicated seasons.
Human Leads
1954–1957: Miller Family ("Jeff's Collie")
Jan Clayton as Ellen Miller
Tommy Rettig as Jeff Miller
George Cleveland as George "Gramps" Miller
Donald Keeler as Sylvester "Porky" Brockway
1957–1964: Martin Family ("Timmy & Lassie")
Jon Provost as Timmy Martin
Jon Sheppodd as Paul Martin
Cloris Leachman (1957-1958)\June Lockhart (1958-1964) as Ruth Martin
George Chandler as Petrie J. Martin (1957-1959)
Andy Clyde as Cully Wilson (1959-1964)
Todd Ferrell as Ralph "Boomer" Bates (1958-1959)
1964–1970: U.S. Forest Service
Robert Bray as Forest Ranger Corey Stuart (1964-1968)
Jack De Mave as Forest Ranger Bob Erickson (1968-1970)
Jed Allan as *Forest Ranger Scott Turner (1968-1970)
(1970–1971: Lassie travels on her own; no human leads)
1971–1973: Holden Ranch
Ron Hayes as Garth Holden
Skip Burton as Ron Holden
Larry Wilcox as Dale Mitchell
Larry Pennell as Keith Holden
Pamelyn Ferdin as Lucy Baker
Dog Actors as Lassie
Pal (Pilot episodes)
Lassie Junior (1954–1959)
Spook (1960)
Baby (1960–1966)
Mire (1966–1971)
Hey Hey (1971–1973)