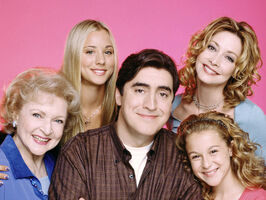 Ladies' Man was a CBS network sitcom, created by Chris Thompson, starring Albert Molina in the lead role.
The show first premiered on September 20, 1999 and ended on June 27, 2001 after two seasons & 30 episodes.
The show was about Jimmy Stiles, a husband, father, son, ex-husband and son-in-law who living with a number of women under one roof.
Alfred Molina as Jimmy Stiles
Sharon Lawrence as Donna Stiles
Betty White as Mitzi Stiles
Dixie Carter as Peaches
Park Overall as Claire Stiles
Shawna Waldron as Bonnie Stiles #1 (1999–2000)
Kaley Cuoco as Bonnie Stiles #2 (2001)
Alexa Vega as Wendy Stiles
Stephen Root as Gene
Elizabeth Beckwith as Sabrina (2001)
Alex Trebek as Himself [voice]
Kathleen McClellan as Terry
Ad blocker interference detected!
Wikia is a free-to-use site that makes money from advertising. We have a modified experience for viewers using ad blockers

Wikia is not accessible if you've made further modifications. Remove the custom ad blocker rule(s) and the page will load as expected.