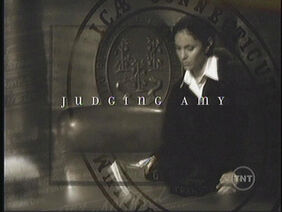 Judging Amy was a CBS network drama series created by Amy Brenneman (who starred on the show as the lead character), Bill D'Elia, John Tinker and Connie Tavel.
The show also starred Tyne Daly, Richard T. Jones, Dan Futterman, Marcus Giamatti, Jessica Tuck, Karle Warren, Jillian Armenante, Kevin Rahm and Timothy Omundson.
It aired from September 19, 1999 to May 3, 2005, lasting six seasons and 138 episodes.
Based on the life experiences of Amy Brenneman's mother, the series was about Amy Gray, a former New York attorney who moves back to her hometown of Hartford, Connecticut with her young daughter, Lauren after separating (& later divorcing) her husband and becomes a family court judge.
Amy and Lauren live with Amy's mother, Maxine Gray who works as a social worker for the Department of Children and Families (DCF).
In the de facto series finale (the series was canceled after the conclusion of the season), Amy quits the judiciary to run for the United States Senate.
Amy Brenneman as Judge Amy Gray
Tyne Daly as Maxine Gray
Richard T. Jones as Bruce Van Exel
Dan Futterman as Vincent Gray (seasons 1 through 3; season 6)
Marcus Giamatti as Peter Gray
Jessica Tuck as Gillian Gray
Karle Warren as Lauren Cassidy
Jillian Armenante as Donna Kozlowski
Kevin Rahm as Kyle McCarty (seasons 3 through 6)
Timothy Omundson as Sean Potter
Ad blocker interference detected!
Wikia is a free-to-use site that makes money from advertising. We have a modified experience for viewers using ad blockers

Wikia is not accessible if you've made further modifications. Remove the custom ad blocker rule(s) and the page will load as expected.