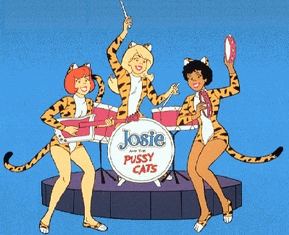 Josie and the Pussycats is a animated Saturday morning TV series based on the Archie Comics comic book series of the same name created by Dan DeCarlo.
The show premiered on September 12, 1970 and lasted until January 2, 1971 after airing for 16 episodes.
In 1972, it was re-conceptulaized as "Josie and the Pussycats in Outer Space".
The show followed the adventures of a rock & roll band that comes across all sorts of adventures along the way. The group consists of Josie, their guitar-playing leader; Valerie, the brilliant tamborine-player; Melody, the naive and optimistic drummer; Alan, Josie's love-interest; Alexander, the group's cowardly manager; Alexandra, Alexander's pesky sister who constantly tries to upstage Josie and be Alan's main squeeze; and of course, Sebastian, Alexandra's fiesty cat.
Voice Cast
Edit
Janet Waldo as Josie
Barbara Smith as Valerie
Jackie Joseph as Melody
Jerry Dexter as Alan
Sherry Alberoni as Alexandra Cabot
Casey Kasem as Alexander Cabot III
Don Messick as Sebastian the Cat
Cathy Dougher as Josie (singing voice)
Patrice Holloway as Valerie (singing voice)
Cheryl Ladd as Melody (singing voice)
Ad blocker interference detected!
Wikia is a free-to-use site that makes money from advertising. We have a modified experience for viewers using ad blockers

Wikia is not accessible if you've made further modifications. Remove the custom ad blocker rule(s) and the page will load as expected.