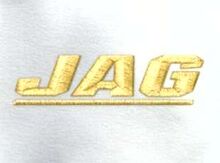 JAG (short for Judge Advocate General) was a CBS network legal drama created by Donald P. Bellisario.
Originally, the show aired on the NBC network on September 23, 1995, but it was canceled on May 22, 1996 after one season. CBS ended up picking up the show as a midseason replacement and it aired on the network from January 3, 1997 to April 29, 2005.
The show also spawned the spin-off series "NCIS".
The series focused on the cases of Harmon Rabb, a former Navy fighter pilot and his fellow lawyers of the US Navy's Judge Advocate General's office.
Main Cast
David James Elliott as Cmdr. Harmon Rabb Jr.
John M. Jackson as Adm. A.J. Chegwidden [seasons 1-9]
Catherine Bell as Marine Maj./Col. Sarah "Mac" MacKenzie [seasons 2-10]
Patrick Labyorteaux as Lt. "Bud" Roberts [seasons 2-10]
Karri Turner as Ens. Harriet Simms [seasons 2-10]
Scott Lawrence as Cmdr. Sturgis Turner [seasons 7-10]
Trevor Goddard as Mic Brumby [seasons 4-7]
Tracey Needham as Lt. Meg Austin [season 1]
Recurring Cast
W.K. Stratton as Cmdr. Teddy Lindsey [season 1]
Andrea Thompson as Cmdr. Allison Krennick [season 1]
Steven Culp as Special Assistant Clayton Webb [season 2-9]
Chuck Carrington as P.O. Tiner
Randy Vasquez as Gunnery Sgt. Victor Galindez [seasons 6-9 ]
Nanci Chambers as Lt. Lauren Singer [seasons 7-9]
Tamlyn Tomita as Lt. Cmdr. Tracy Manetti [seasons 8-9]
Ad blocker interference detected!
Wikia is a free-to-use site that makes money from advertising. We have a modified experience for viewers using ad blockers

Wikia is not accessible if you've made further modifications. Remove the custom ad blocker rule(s) and the page will load as expected.