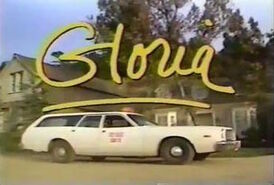 Gloria was a CBS network sitcom and spin-off of "Archie Bunker's Place", starring Sally Struthers (in the title role), reprising her role as Archie Bunker's daughter.
The show aired from September 26, 1982 to April 10, 1983, lasting 21 episodes, making it one of the few spin-offs of "All in the Family" not to have a successful run on TV.
The spin-off centered on Gloria Stivic (Sally Struthers) and her son, Joey (Christian Jacobs) moving to Fox Ridge, New York where she worked as a veternarian's assistant after her husband, Michael left her for one of his students and moved to join a commune.
Sally Struthers as Gloria Bunker Stivic
Burgess Meredith as Dr. Willard Adams
Jo De Winter as Dr. Maggie Lawrence
Lou Richards as Clark V. Uhley, Jr.
Christian Jacobs as Joey Stivic
Ad blocker interference detected!
Wikia is a free-to-use site that makes money from advertising. We have a modified experience for viewers using ad blockers

Wikia is not accessible if you've made further modifications. Remove the custom ad blocker rule(s) and the page will load as expected.