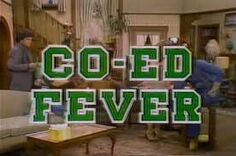 Co-Ed Fever was a very short-lived CBS network sitcom series that was created by Martin Ransohoff, Michael Elias and Frank Shaw.
The series premiered on February 4, 1979 (airing as a "special preview") and it attempted to capitalize on the success of the film "National Lampoon's Animal House."
The cast consisted of David Keith, Heather Thomas, Alexa Kenin, Cathryn O'Neil, Tacey Phillips and Jillian Kesner.
After only one episode, "Co-Ed Fever" was cancelled due to low ratings.
In 2002, the series ranked number 32 on TV Guide's "50 Worst Shows of All Time" list.
Heather Thomas would later go on to star on ABC's "The Fall Guy." David Keith went on to appear in various films and television shows. Alexa Kenin went on to star in films such as "Little Darlings" and "Pretty in Pink", but on September 10, 1985, she was found deceased in her home at the age of 23.
Ad blocker interference detected!
Wikia is a free-to-use site that makes money from advertising. We have a modified experience for viewers using ad blockers

Wikia is not accessible if you've made further modifications. Remove the custom ad blocker rule(s) and the page will load as expected.