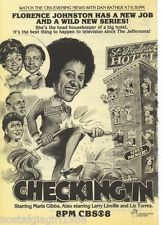 Checking In was a CBS sitcom and spin-off of "The Jeffersons" starring Marla Gibbs, Patrick Collins, Liz Torres, Larry Linville, Ruth Brown, Jordan Gibbs and Robert Costanzo.
The show premiered on April 9, 1981, but due to low ratings, the show was canceled on April 30, 1981, lasting only 4 episodes.
The show was about the Jeffersons' maid, Florence Johnston who accepts a job to become the executive housekeeper at the fictional St. Frederick Hotel in Manhattan, New York.
After the series was cancelled, Marla Gibbs returned to her regular role on "The Jeffersons" and it was explained that the St. Frederick Hotel had burned down.
Marla Gibbs as Florence Johnston
Patrick Collins as Earl Bellamy
Robert Costanzo as Hank Sabatino
Jordan Gibbs as Dennis
Larry Linville as Lyle Block
Liz Torres as Elena Beltran
Episode List
Edit
Boo Who? (04\09\1981)
Block's Party (04\16\1981)
Who's Side Are You On? (04\23\1981)
Florence and the Salesman (04\30\1981)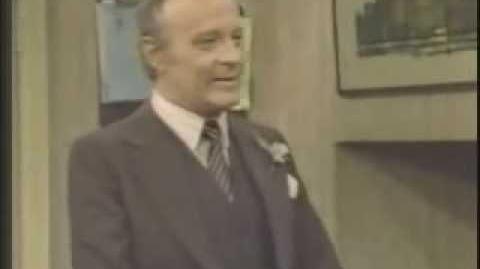 Ad blocker interference detected!
Wikia is a free-to-use site that makes money from advertising. We have a modified experience for viewers using ad blockers

Wikia is not accessible if you've made further modifications. Remove the custom ad blocker rule(s) and the page will load as expected.