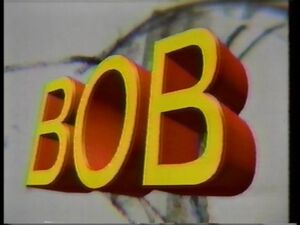 Bob was a CBS network sitcom created by Bill & Cheri Steinkellner and Phoef Sutton, starring Bob Newhart in the title that premiered on September 18, 1992.
The show also starred actors such as Carlene Watkins, Cynthia Stevenson, John Cygan, Andrew Bilgore, Lisa Kudrow, Tom Poston, Dick Martin, Betty White, Jere Burns, Eric Allan Kramer and Megan Cavanaugh.
"Bob" was one of four sitcoms CBS assembled on Friday nights in an effort to challenge the dominance of TGIF (the family sitcom block that aired on ABC) in the fall of 1992. Joining the show was "The Golden Palace" (which was a continuation of "The Golden Girls" which CBS outbid NBC for the rights to) and two of the network's Monday night comedies, the top ten rated "Major Dad" and "Designing Women."
Although the show was heavily promoted by TV Guide (which featured it on the cover twice during its freshman season), it failed to catch on with the viewing public in its Friday night time slot (which had been shifted to 9:30pm) and in fact, the entire Friday lineup failed to make any headway in the ratings against ABC.
When the first season ended, the other three Friday night sitcoms were cancelled and "Bob" underwent a retooling which was saved from the axe by a relocation to Mondays and a subsequent ratings boost.
However, the show was moved back to Fridays for the second season and again, it saw ratings trouble. A switch to Monday nights in December was too late to do much good and "Bob" was canceled on December 27, 1993 after 2 seasons and 33 episodes.
In the late '90s, the three remaining episodes of "Bob" finally aired during TV Land reruns (where it aired as part of the "Bob Bob Newhart Newhart" Marathon).
"Bob" was about a cartoonist named Bob McKay who deals with corporate drama that ensues after the revival of a super hero he created.
Bob Newhart as Bob McKay
Carlene Watkins as Kaye McKay
Cynthia Stevenson as Trisha McKay
Ruth Kobart as Iris Frankel [season 1]
John Cygan as Harlan Stone [season 1]
Andrew Bilgore as Albie Lutz [season 1]
Timothy Fall as Chad Pfefferle [season 1]
Jere Burns as Pete Schmidt [season 2]
Megan Cavanaugh as Chris Szelinski [season 2]
Eric Allan Kramer as Whitey van der Bunt [season 2]
Ad blocker interference detected!
Wikia is a free-to-use site that makes money from advertising. We have a modified experience for viewers using ad blockers

Wikia is not accessible if you've made further modifications. Remove the custom ad blocker rule(s) and the page will load as expected.