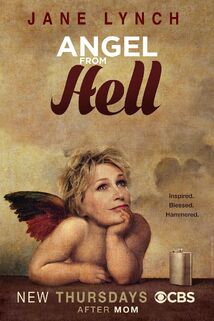 Angel From Hell was a CBS network fantasy sitcom created by Tad Quill, starring Jane Lynch, Maggie Lawson, Kyle Bornheimer and Kevin Pollak.
The show premiered on January 7, 2016 and after it began airing, One Million Moms (a website of the American Family Association) claimed that the show "disrespects Christianity". They also suggested a list of sponsors to pull advertisements from the program.
On February 8, 2016 (after 5 episodes aired), it was cancelled and CBS pulled it from the schedule. The remaining episodes will begin airing on July 2, 2016.
The show is about an angel named Amy, who acts as a guardian for a woman named Allison which forms an unlikely friendship.
Jane Lynch as Amy
Maggie Lawson as Allison Fuller
Kyle Bornheimer as Brad Fuller
Kevin Pollak as Marv Fuller
Ad blocker interference detected!
Wikia is a free-to-use site that makes money from advertising. We have a modified experience for viewers using ad blockers

Wikia is not accessible if you've made further modifications. Remove the custom ad blocker rule(s) and the page will load as expected.